About to head off the grid for some weekend camping so here's a quick, early post for today's movie.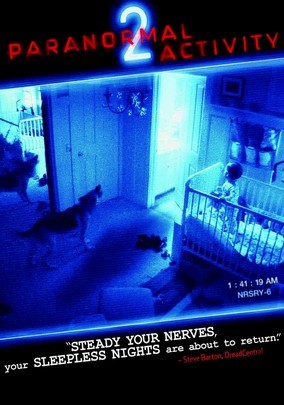 Paranormal Activity 2 – USA, 2010. Dir. Tod Williams. Starring Brian Boland, Molly Ephraim.
Since I've written about the original Paranormal Activity and Paranormal Activity 3 and Paranormal Activity 4 is out this month so I'll probably see it, I figured I should somehow include Paranormal Activity 2.
But I don't really have much to say about it. It's like that awkward middle child that you just include because you have to. It's better than the first by far but still not reaching the level of "Entertaining. Finally." that the 3rd one gets to.
It does have some creepy stuff happening around a baby so it does get points for that.
So yeah. I mean, watch it if you want to watch the whole series? But you don't really need to.
In case you've forgotten, here's what you're missing.